AnyLexic Server can work in one of the three modes: Demo, Public and Private. These three modes define the level of your Server Database security, particularly – level of user's access to this database and to status of other online users.
Modes can be switched using AnyLexic Server Administrator.
Demo Mode
This is the only mode available during the evaluation period. This is the lowest possible security mode of your AnyLexic Server.
In Demo mode all users can view all other currently logged-in users. Also, default logins and passwords can be used in this mode. All logins and passwords in Demo mode are viewable by anyone who tries to log in.
Default logins and their passwords are: user1/user1, user2/user2 … user5/user5. These logins and their passwords cannot be changed, only their access rights to dictionaries can be edited. To disable default logins please switch your AnyLexic Server to Private or Public mode.

Note: After registration your AnyLexic Server will automatically switch to Private mode. It is recommended to change logins and passwords of any users which have been using Server in Demo mode, since these logins and passwords have been accessible by anyone.
Public Mode
This mode enables users to see currently logged-in users immediately after log-in. To view the list of other online users in Public mode, please click menu Database > Active Users: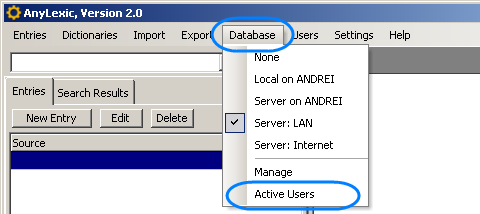 All users currently connected to AnyLexic Server will be displayed in a dialog window.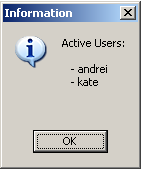 Private Mode
In private mode Database > Active users menu does not provide any information about users currently connected to the database.
To change Server Operation mode:
1. Run AnyLexic Server Administrator.
2. Click Database tab and turn your database offline by clicking Go Offline button.
3. Click Settings tab, and then click Operation Mode.
4. Sect required Operation Mode.