| | | |
| --- | --- | --- |
| | | Leading Translation Management System for Translation Agencies, Top Translation Management Software for Freelance Translators, Time Tracking Software, Word Count, Character Count and Line Count Software, Computer Assisted Translation Tool for Easy Word Count, Clipboard Character Count Software, User-Friendly Translation Memory Software, Terminology Management Software, Terminology Management Server, Microsoft Glossary Software, Dictionary of Acronyms, Social Network for Translators and Translation Agencies, Acronyms and Abbreviations Search Engine, Russian Translation Lab, Ukrainian Translation Lab. |
You are reading help file online using chmlib.com
Main Program
PowerISO main program user interface includes the following parts:
Title Bar: Display PowerISO title and the current opened image file name.

Menu:

Operation Bar: Contain some frequently used operations, such as "new", "open", "save",...

Explorer Bar: Can be used to browse the image file conveniently.

Folder View: Display the folder structure of the current opened image.

File View: Display all files in the current selected folder.

Properties Bar: Display file properties and capacity. Double click on this bar, the properties dialog will display.

Status Bar: Display the number and size of files in current folder, and the number and size of the selected files.

Popup Menu: Right click on the folder view or file view area, a popup menu will display.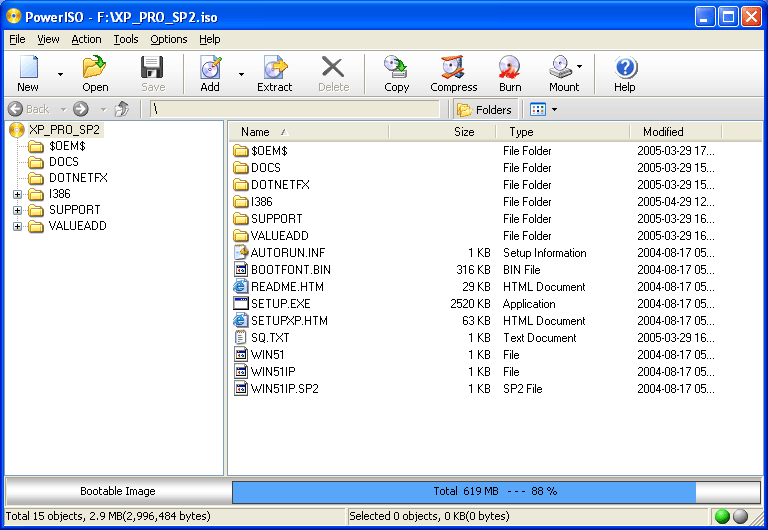 You are reading help file online using chmlib.com
---
If you want your help file to be removed or added please send e-mail to chmlibcom@gmail.com