You can store marketing information concerning the selected client (the client is selected on the Main page of the Client window On the Marketing page of the Client window; the name of the selected client is displayed in the Client window caption; e.g. the next screenshot shows Contacts page for Pocket Moon Souvenirs - US ).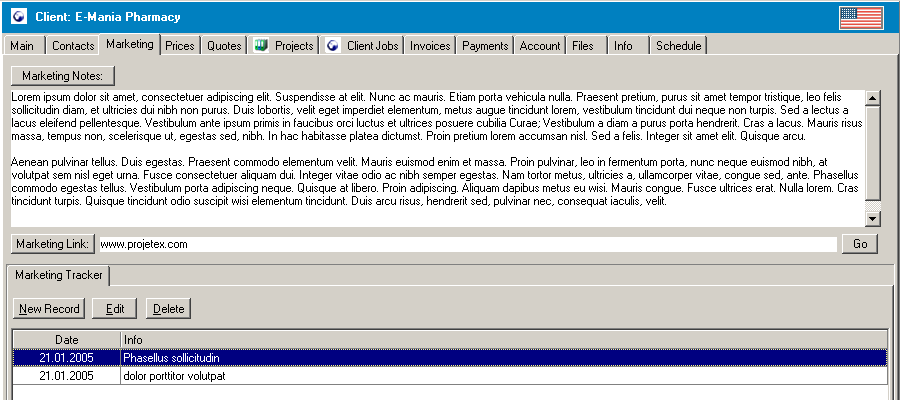 To open the Marketing page, open the Client window and then click Marketing tab.

On the Marketing page you can enter three types of marketing information:
| | |
| --- | --- |
| · | General marketing notes (text). |
To add general marketing notes click Marketing Notes: button and enter the text into the Marketing Notes box displayed.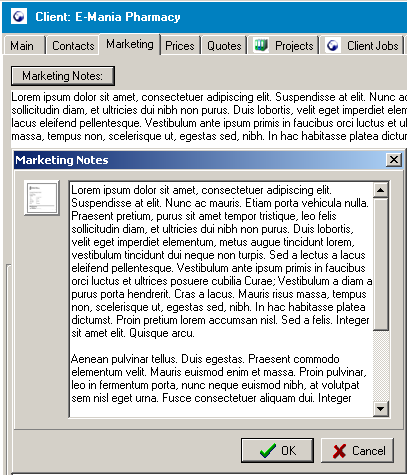 | | |
| --- | --- |
| · | Hyper-link to the web site, somehow concerning your marketing activity. |
If you want to add a marketing link, click the Marketing Link button, and enter the URL in the pop-up Marketing Link window. Go button (on the right of the Marketing Link) click points your Internet-browser to the provided Internet address.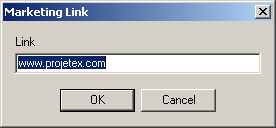 | | |
| --- | --- |
| · | Specific marketing events, with data and description. |
The lower part of the Marketing page is called Marketing Tracker. Here you can add a new record for a certain marketing event, set its date and some info about it.
To add a record click New Record button, New Record window will appear. Enter the description of the event, and set the date by clicking on the down arrow of the Date field, and choose the appropriate date from the drop-down Calendar box.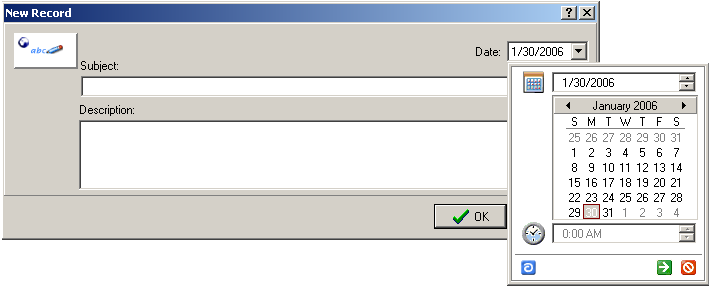 Besides, in the Calendar box you can also set a month of the event by clicking on the left or right arrow of the month displaying button (on the screenshot above it contains "January 2006" string). Or you can set a month by clicking up and down arrows of the date field in the Calendar box. When finished, click on the green pictogram to apply the changes, or on the red one to leave without saving. In addition, you have a possibility to set the current date by clicking on the blue pictogram at the bottom of the Calendar box.
Having finished entering information about the event click OK to apply the changes, or click Cancel to discard them. The new record with the date will be added to the Marketing Tracker box in the first case.
You can also edit or delete existing Marketing records.
To edit the note, select it from the list and click Edit button or simply double-click the record. Change the necessary information in the Edit Record window displayed; click OK to save the changes, or click Cancel to discard them.

To delete the record select it from the list and click Delete button; the note will be deleted after confirmation.
Finally, you can sort your entries in the Marketing Tracker box by Date or by Info. For this purpose, simply click on the corresponding column caption.