Documents (Invoices, Quotes etc.) issued with the help of TO3000 and other data from TO3000 database are based on .RTF templates.

Note: Standard templates are supplied together with your copy of TO3000 at once. What makes TO3000 a really flexible freelancer accounting tool, is that .RTF templates are completely customizable (you can change formatting, language, font color, insert images etc.)
You can access and manage TO3000 .RTF templates from the Templates page of TO3000 Personal settings.
To open Templates window click menu Settings > Personal and select Templates page.
Templates page lists these templates organized in folders: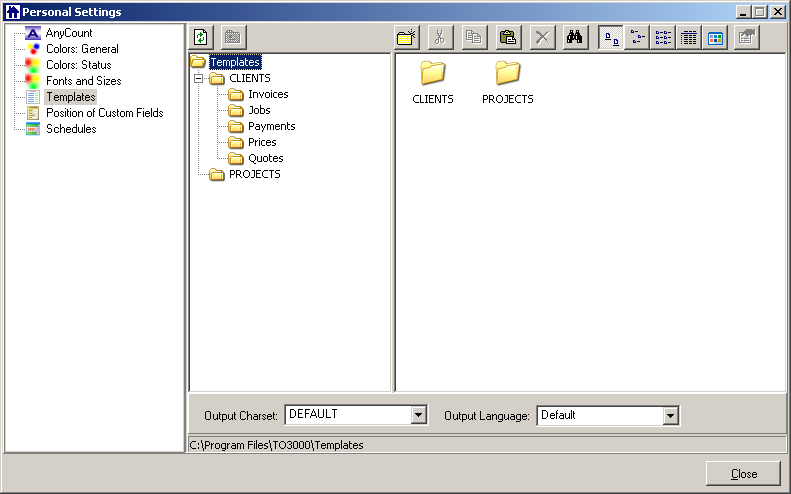 Translation Office 3000 V8 enables you to print Invoices, Jobs, Payments, Prices, Profiles, Quotes or save them as files, which can be opened in Microsoft Word or other compatible word processor. You can customize layout and details included in these files or printouts by adjusting Templates.

You can perform various file operations using toolbar buttons:


Simple rules for the beginners: you can change anything except variables, which have "\" (backslash) symbols in the beginning and in the end, e.g. \CLIENT_NAME\, \CLIENT_STREET1\, \CLIENT_PHONE1\ etc.
Advanced users can learn about templates variables, add/delete them as necessary, customizing templates to the maximum.

Do not hesitate to write to support@to3000.com if you ever need assistance in customizing templates to serve your tasks and requirements better. One of our team members would be pleased to assist you.
We will regularly post new templates to Customer Support area of www.translation3000.com Web site.
If you have designed custom TO3000 templates in English or translated some of them into your native language, and would like to share them with other users, feel free to send them to support@to3000.com. We will make them available for download, with your name, language combination you work in, and link to your Web site.