| | | |
| --- | --- | --- |
| | | Leading Translation Management System for Translation Agencies, Top Translation Management Software for Freelance Translators, Time Tracking Software, Word Count, Character Count and Line Count Software, Computer Assisted Translation Tool for Easy Word Count, Clipboard Character Count Software, User-Friendly Translation Memory Software, Terminology Management Software, Terminology Management Server, Microsoft Glossary Software, Dictionary of Acronyms, Social Network for Translators and Translation Agencies, Acronyms and Abbreviations Search Engine, Russian Translation Lab, Ukrainian Translation Lab. |
You are reading help file online using chmlib.com
Main Window of Any Video Converter
The main window of Any Video Converter Professional is illustrated as follows: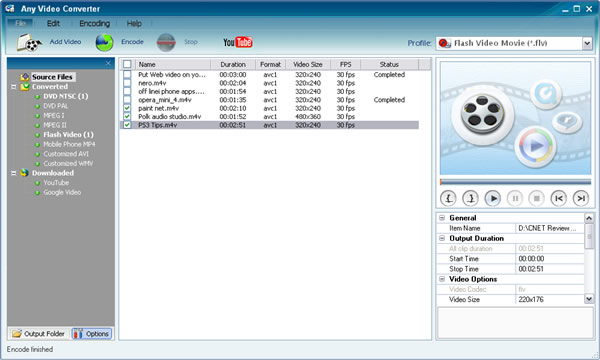 The main window of the program is divided into four parts:
--The left window is the files panel of the program.
* Source Files: Click it to see all videos you add to the program.
* Converted: Files with same output profile are put in the same folder and you can approach them directly.
* Downloaded:Tthe folder contaning videos you have dowbloaded from YouTUbe and Google.
--The middle window displays all videos you add and all videos which have been converted.
--The upper left window is for previewing the trimming added videos.
--The lower left window shows all setting of the profile you select, You can also customize output profile here.
You are reading help file online using chmlib.com
---

If you want your help file to be removed or added please send e-mail to chmlibcom@gmail.com