Firebird Database Server is a database engine, which should be running continuously in order for AnyLexic users to have access to Server Database. On rare occasions you may need to stop Firebird Server temporarily (for upgrade, maintenance, uninstall or other needs).
You can start/stop Firebird Database Server with the help of Database Server tab of the AnyLexic Server Administrator, Version 2.0 by clicking Stop Server button.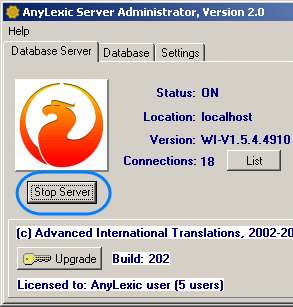 When Firebird Database Server is stopped, all database operations are not accessible. No AnyLexic client can connect to database, and set of AnyLexic System Administrator options is limited by Database Server page.

Note: Stopping Firebird Database Server is a critical operation, which can result in data loss if some users are still connected to the server when it stops. Always switch database into offline mode (it can be done from the Database page of the AnyLexic Server Administrator) to ensure no AnyLexic clients are connected to the Database Server before running Stop Server command.