You can view and manage database information on the Database tab of the AnyLexic Server Administrator, Version 2.0.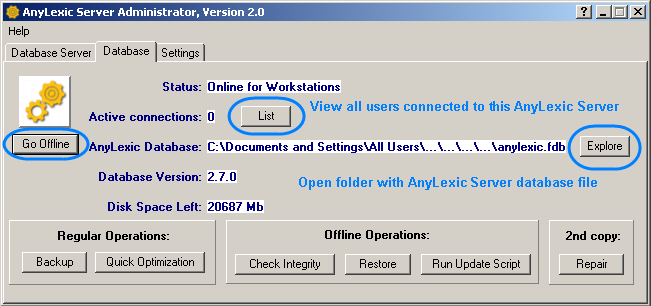 The following database information can be viewed on the Database tab of AnyLexic Server Administrator window:
Status:
AnyLexic Server Database can be in one of the two states:
·

Online

– All

AnyLexic

clients can connect to the

AnyLexic

Server Database

.
·

Offline

– Only

AnyLexic Server Administrator, Version 2.0

can work with the database. This mode is necessary for running commands from

Offline Operations

panel on the

Database

page (Check Integrity, Restore, and Run Update Script).
Turn your database online and offline using Go Online/Go Offline button below database status icon.
Active Connections
This string displays the number of active connections and time when they were was last checked. Number of active connections is checked automatically when you enter Database page. Click Show Logged Users button to view all currently connected users.
AnyLexic Database
This string displays full path to the AnyLexic server database file.
This file is located in ...\Documents and Settings\All Users\Application Data\AIT\AnylexicServer2008\Database\anylexic.fdb.
Click Explore button to quickly open this folder in Windows® Explorer.
Database Version
This string displays the version of AnyLexic database. Version number consists of AnyLexic version (e.g. 2) and database version (e.g. 1.0.). This field is reserved to differentiate between database structure updates within the same version of AnyLexic software.
Disc Space Left
This string displays the information about the free space left on the disk, where AnyLexic database is located.

See also: