You may need to adjust some information on the Quote or change its status having received the feedback from the client.
The Quote can be modified from the Quotes page of Client window (where the quotes to the particular client are displayed) or from the Quotes to Clients window (where all quotes from the database are displayed).
To modify the Quote:

or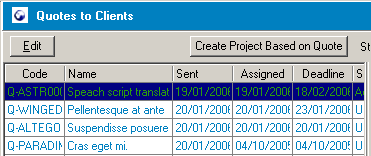 2. Click Edit button in the left part of the window or double-click the selected Quote.
3. Make the necessary changes in the Edit Client Quote window. More details...

To delete a Quote
To delete a Quote select it from the list on the Quotes page of the Client window (see the first screenshot above) click Delete button and confirm the deletion in the confirmation dialog box.

Note: When you delete a Quote record with not the last Code number the previous Quote Codes do not change.

See Also: