Quotes to clients contain draft client jobs and their estimated cost.
To create a new Quote:
1. On the Main page of the Client window select the Client the Quote will be addressed to: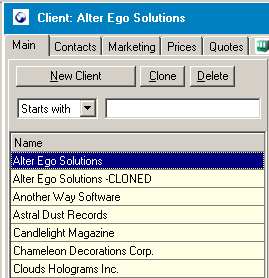 2. Switch to the Quotes tab of the Client window.
3. Click New Quote button.
4. Enter the necessary information (client jobs and their details) to the New Quote window.
The newly created quote record will appear in the list of Quotes in the left part of the Quotes page.

See Also:
View all Quotes (Quotes to Clients window)