Have a glance on this schedule to have a clear picture of all pending, due/overdue projects (for all clients) for the period specified. For example: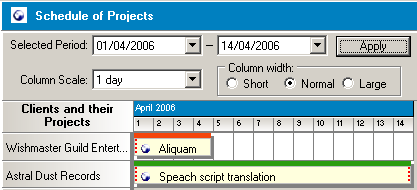 To open the Schedule of all projects click menu Navigation > Schedule of Projects or on the Schedule of Projects icon from the Clients set of Navigation panel:


On the Schedule of Projects window you can see all Projects which fall into the scope of the selected period displayed as horizontal columns of different colors (depending on the Project status). The Project Names are written on the columns, the length of the columns depends on the Project timeline.
The color shading according to the Project status:
| | |
| --- | --- |
| | Deadline was in the past, the Project is current and overdue. |
| | Deadline is later today. |
| | Deadline is in the future. |
| | The Project was overdue. The red crossed part are the days/hours after the deadline. |

Note: status colors can be changed on the Personal Settings > Colors:Status page.
·

To set the time period use

Selected Period

drop-down calendars and click

Apply

button: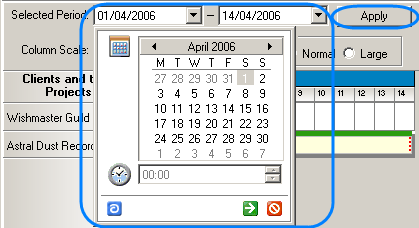 ·

You can change the calendar graduation using

Column Scale

drop-down list. Each calendar division can represent 1 hour/8 hours/12 hours/1 day:


Note: The set of available values for calendar graduation varies depending on the length of the Selected Period.
·

You can customize the width of the calendar divisions using

Column width

options:
·

You can select to display

Projects

with particular status only using

Status

drop-down menu in the upper right part of the

Schedule of Projects

window: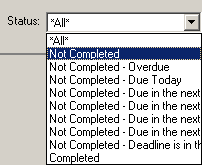 ·

Double-clicking on the column, representing a

Project

you can open the Edit Project window where you can change the details of the

Project

.

See Also:
Schedules: tracking the Jobs accomplishment
Schedule page of the Client window
Schedule page of the Project window