Downloading Videos from YouTube and Google
With the program, you can download videos from YouTube and then convert to MPEG-4 format playable on your iPod, PSP or mobile phones. Choose File> Import Video to from Internet to begin downloading videos.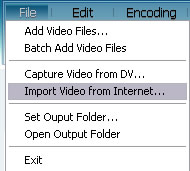 1. Copy the link locations of desired videos
If you want download videos from YouTube, click Online Video tab in the Options window to sign in your YouTube account. Then visit YouTube.Com and right-click on the desired video to choose Copy Link Location (this is for Firefox users) or open the video and then copy the URL from the navigation bar (this is for IE users).
If you want to download videos from Google, Visit video.google.com and right-click on desired video to choose Copy the Link Location.
2. Paste the link in the program
Right-click on the panel for adding videos in the program and then choose Paste Video URL. You can also choose File> Import Video from YouTube and then click Add button to paste the URL of the video.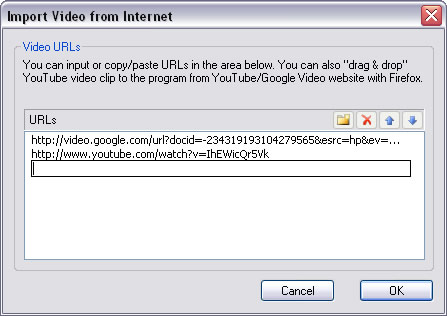 3. Start to download
Double-click the pasted video URL to start downloading video from YouTube and Google.
You are reading help file online using chmlib.com
---

If you want your help file to be removed or added please send e-mail to chmlibcom@gmail.com