In case you are informed about errors after running Check Integrity command, it is necessary to attempt repairing database by running Repair command from Database Manager window.

Note: As a security precaution, AnyLexic cannot run any repairs on the original location of AnyLexic database (C:\Documents and Settings\All Users\Application Data\AIT\AnyLexic 2.0\Database\). It would be advisable to copy your current database in some other location before repair procedure.
To repair AnyLexic database:
1. Сlick Database > Manage menu.

Database Manager window will appear.
2. Click Repair button in the Database Manager window.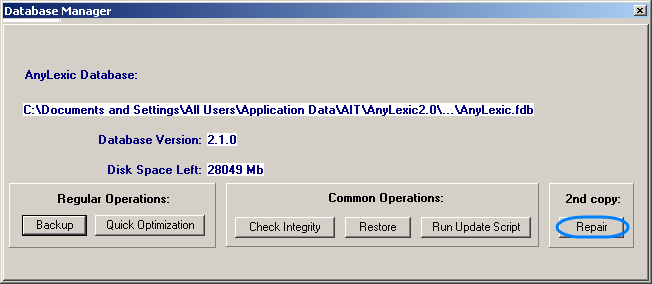 3. Specify the location of the database copy which you wish to use for repairing your current database. To browse through available copies, click Select button. Click OK after backup file location has been specified.


Note: In case the repair procedure fails, the only alternative is restoring database from most recent backup, therefore it is important to backup often.

See also: