You can restore previously backed up (during Backup operation) database by running Restore operation and specifying the required backup .FDB file.
To restore AnyLexic database:
1.Click Database > Manage menu.

2. Click Restore button in the Database Manager window.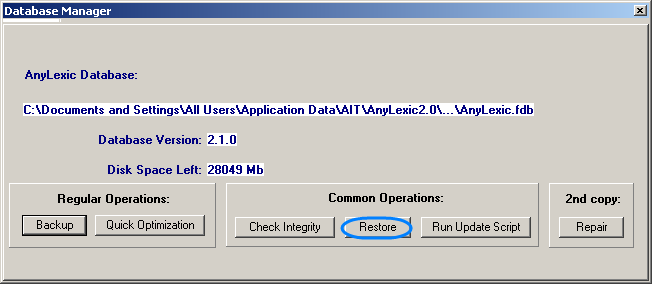 3. To prevent accidental loss of current database, restoring requires to move away existing database file before running Restore operation. Path to database file is displayed in Database Manager window. By default the location of database file is C:\Documents and Settings\All Users\Application Data\AIT\AnyLexic 2.0\Database\anylexic.fdb.

Note: C:\Documents and Settings\All Users\Application Data\ folder may be hidden due to folder settings on your computer. You have to make it visible first to find database file.
3. After you confirm the restore procedure, the Restore Database window will appear.
·

Restore from

Ц click

Select

button to specify the path to the backup file.
·

To Database

field displays the future location of the restored database.
·

Click

OK

to proceed or click

Cancel

to resume.


See also: