You can restore previously backed up (during Backup operation) database by running Restore operation and specifying the required backup .FDB file.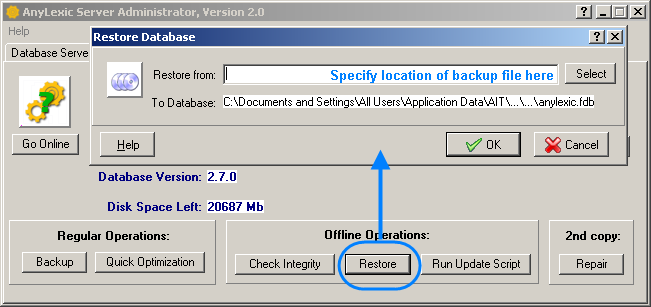 To restore your database from a backup file:
1. Run AnyLexic Server Administrator and switch to Database tab.
2. Click Go Offline button on the Database tab of the AnyLexic Server Administrator, Version 2.0. Confirm switching your database offline.
3. Rename or move your current database file.
The file is located in \Documents and Settings\All Users\Application Data\AIT\AnyLexic Server 2.0\Database. Click Explore button to quickly open this folder.
4. Click Restore button and select required backup file.

As a security precaution, Restore command requires that you move away existing database from database path (C:\Documents and Settings\All Users\Application Data\AIT\AnylexicServer2008\Database\anylexic.fdb) first. Make sure that the database is in Offline mode before moving it away. If Windows® generates "Access denied" error during move operation, stop Firebird Database Server (it can be done from the Database Server page) and repeat the operation.

See also: