In some cases, when you update your AnyLexic, Version 2.0, database should be updated as well, to support new features or enhancements, introduced in executable files. Usually, the version of database will be automatically updated during the setup of new AnyLexic build. However, in rare cases the database may not be updated. In this case, AnyLexic will inform you that it needs a new version of database.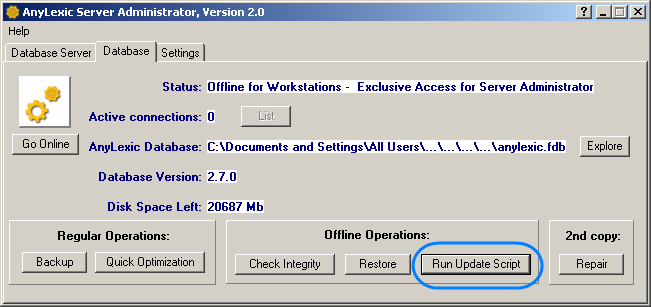 The database is updated with the help of scripts. All required scripts are always installed together with AnyLexic, Version 2.0 update into C:\Documents and Settings\All Users\Application Data\AIT\AnyLexic 2.0\DBUpdates\ folder.

Note: C:\Documents and Settings\All Users\Application Data\ folder may be hidden. You have to make it visible first to find updates folder.
To update your database version:
1. Run AnyLexic Server Administrator and switch to Database tab.
2. Click Go Offline button on the Database tab of the AnyLexic Server Administrator, Version 2.0. Confirm switching your Database offline.
3. Click Run Update Script button your current database file.
4. Select the proper script in the Open Database Update Script window. If you have not updated your software for a while, more than one update can be required to fill the gap between installed database version and required database version.

Example: Installed database version is 2.1.0 and software update requires 2.3.0 database version. In this case please consecutively run two updates (first dbx1to2.alupd and then dbx2to3.alupd). Update files are not necessarily updating from the one number to the next (e.g. dbx1to2.alpud; it can be dbx1to4.alpud etc.).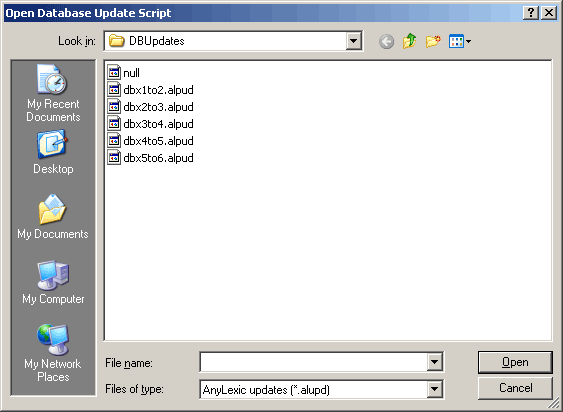 Note: AnyLexic Server Administrator, Version 2.0 does mandatory backup before each database update operation, for maximum security of data in case anything goes wrong during the update.

Note: You can run Update Script command in Offline mode only.

See also: