Translation Office 3000 V8 provides you with possibility to issue invoices easily using all the necessary data from the database and import them to .rtf format using customizable .rtf templates.
To create a new Invoice:
1. On the Main page of the Client window select the Client the Invoice will be addressed to: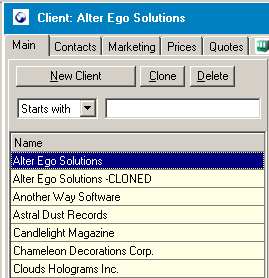 2. Switch to the Invoices tab of the Client window.

3. Click New button.
4. Enter the necessary information to the New Invoice window.
The newly created invoice record will appear in the list of Invoices in the left part of the Invoices page.

Note: After the Invoice is added to your TO3000 database you can save&print it using the .RTF templates. More details...

See Also: