In the New Client Quote window you can specify the necessary information when creating a new quote (set the client's project manager, add presumable client jobs, set draft timeline, data sent, enter the request for the quote and answer, create folder for this quote, etc.).
New Client Quote window opens on New Quote button click from the Quote page of the Client window.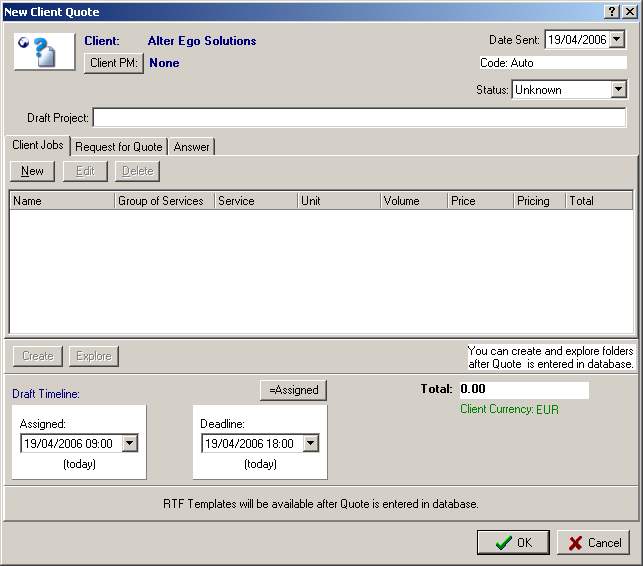 ·

To set the client project manager click . The

Select Client PM

window opens displaying the list of the projects managers of the client: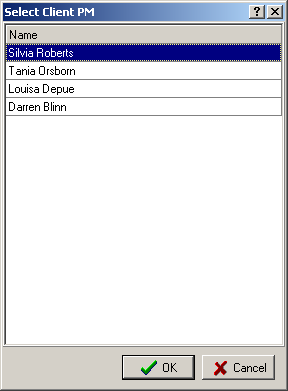 Select the project manager and click OK.

Note: the list of client project managers can be modified on the Contacts page of the Client window.
·

Enter the draft name of the future project in the

Draft Project:

text field.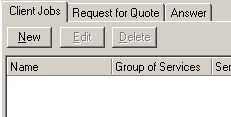 After the Client Jobs are added you can change their details or delete them using Edit and Delete buttons correspondingly: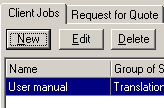 See also: Edit Draft Client Job window.
·

On the

Request for Client Quote

tab you enter the text of the request for the quote.
·

On the

Answer

tab you can enter the text of the client's reply.
·

Specify the draft timeline using the

Assigned

and

Deadline

drop-down calendars:


Note: Click

to set Deadline date equal to Assigned date.
Click OK to add the Quote to the database or click Cancel to discard.
After the quote is added to the database, you will have the possibility to create a separate folder for it and export the Quote to .RTF format using the .RTF templates (these options are available from the Edit Client Quote window).

See Also: