In the Export to Excel window you can set properties of output file when exported in XLS format.
It opens when you select .XLS from the Export to drop-down list on the Export window.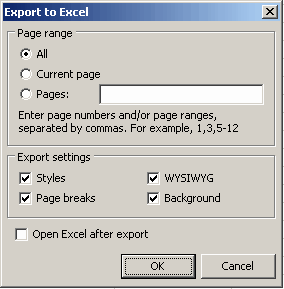 Settings for exporting to Excel:
Page range:
·

select

All

to export all pages of the source;
·

select

Current page

to export only the page you are currently viewing;
·

select

Pages

and specify the numbers in the text box provided to print only certain pages.
Export settings:
·

select

Styles

to save style setting of the source when exporting;
·

select

Page breaks

and page breaks will be compulsively inserted in the .XLS file
To automatically open the new file after finishing export procedure select Open Excel after export.

See Also: