In the Export to PDF window you can set properties of output file when exported to PDF format.
It opens when you select .PDF from the Export to drop-down list on the Export window.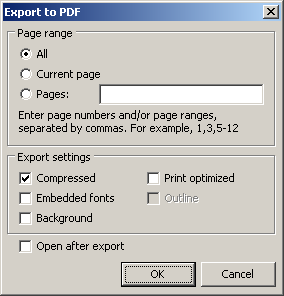 Settings for exporting to .PDF:
Page range:
·

select

All

to export all pages of the source;
·

select

Current page

to export only the page you are currently viewing;
·

select

Pages

and specify the numbers in the text box provided to print only certain pages.
Export settings
·

select

Compressed

to create a .PDF file of minimal size;
·

select

Embedded fonts

to create a .PDF file with all used fonts embedded (like this you can be sure that you text will look the same on any computer, even if the fonts used are not installed there).

For details on exporting to different file formats please see: