Menu Bar of Translation Office 3000 V8 has four menus: Navigation, Custom Reports, Settings, and Help.
Commands available in Navigation menu duplicate the of icons available in Navigation panel. Other menus provide tools for changing your settings, creating reports, accessing Registration and Help.
Let us take a closer look at each menu.

| | |
| --- | --- |
| | All commands from Navigation menu are identical to the icons from Navigation panel, providing access to different parts of TO3000. |
Client and Project commands include a small arrow on the right, by clicking on it you can find duplicates for tabs of the correspondent windows.
For example:


Custom Reports menu:

In Custom Reports menu there is a single List command. Click on it to open the Translation Office 3000 V8 Reports-View window.

Settings menu: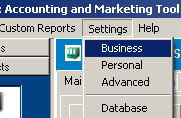 Settings menu provides access to your Translation Office 3000 V8 settings.
Click the commands to open the correspondent settings windows: Personal Settings, which refer to the interface customization mostly, Business Settings, concerning business activity, Advanced Settings for customizing advanced options of TO3000, Database for general management of TO3000 database.


Help menu: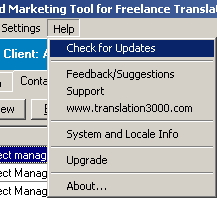 ·

Check for Updates

command opens

Checking for Updates

window.
·

Feedback/Suggestions

command opens up

Compose

Message

dialog in your default email client with feedback@to3000.com as recipient.
·

Support

command opens

Compose Message

dialog in your default email client with support@to3000.com as recipient.
·

System and Locale Info

displays

System Information

window with your system and locale information, which could be useful in case of writing to customer support.
·

About

command shows a nice window with

Translation Office 3000 V8

logo,

License

information and

Build

number of your copy of

Translation Office 3000 V8

.

See Also: Translation Office 3000 V8 User Interface