Database command from the Settings menu provides access to the Database Settings window where you can directly manage the TO3000 database, i.e. backup, restore, repair, update etc.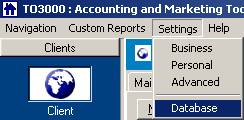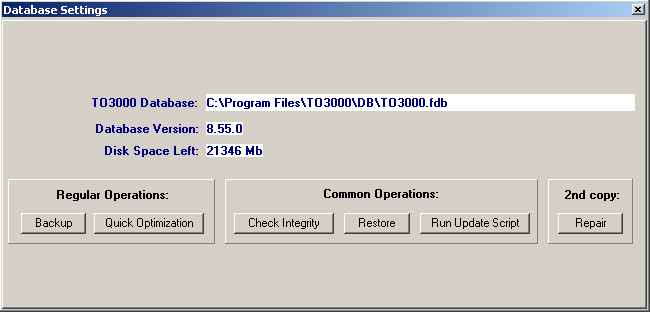 Note: Database managing requires TO3000 to run in a special mode. That is why all other parts of the interface become out of view when the Database Settings window is open.

In the upper part of the Database Settings window you can find the general information about your TO3000 database:
·

- the location of the

TO3000

database on your computer;
·

- the version of your

TO3000

database.
·

- information about the free space left on the disk, where

TO3000

database is located.

Regular Operations

·

Click

Backup

button to create the backup file of your

TO3000

database.

Note: It is highly recommended to backup your database at least once a week and copy the backup file to a safe place, at least different from that where your database is located. This will help you to avoid data loss in case your computer crushes.
After you click Backup the Backup Database dialog box appears where you can specify the necessary information. More Details...
·

Click

Quick Optimization

button to optimize and quicken the work of your

TO3000

database (performing the optimization frees up the unused space in database file and improves its performance).

Note: Quick Optimization is performed automatically during Backup command. If you do backups regularly, there is no need to run Quick Optimization.

Common Operations

·

Click

Check Integrity

button to check if there are any problems in the the database operating.
·

Click

Restore

button to restore your database from the backup file. More Details...
·

Click

Run Update Script

to update the

TO3000

database using scripts. More Details...

2nd copy

Click Repair button to try to repair the database. More details...

For more details please see Database Operations