User Interface of Translation Office 3000 V8 is built around a concept of being as consistent and user-friendly as possible.
The following screenshot shows the most basic elements of Translation Office 3000 V8 User Interface: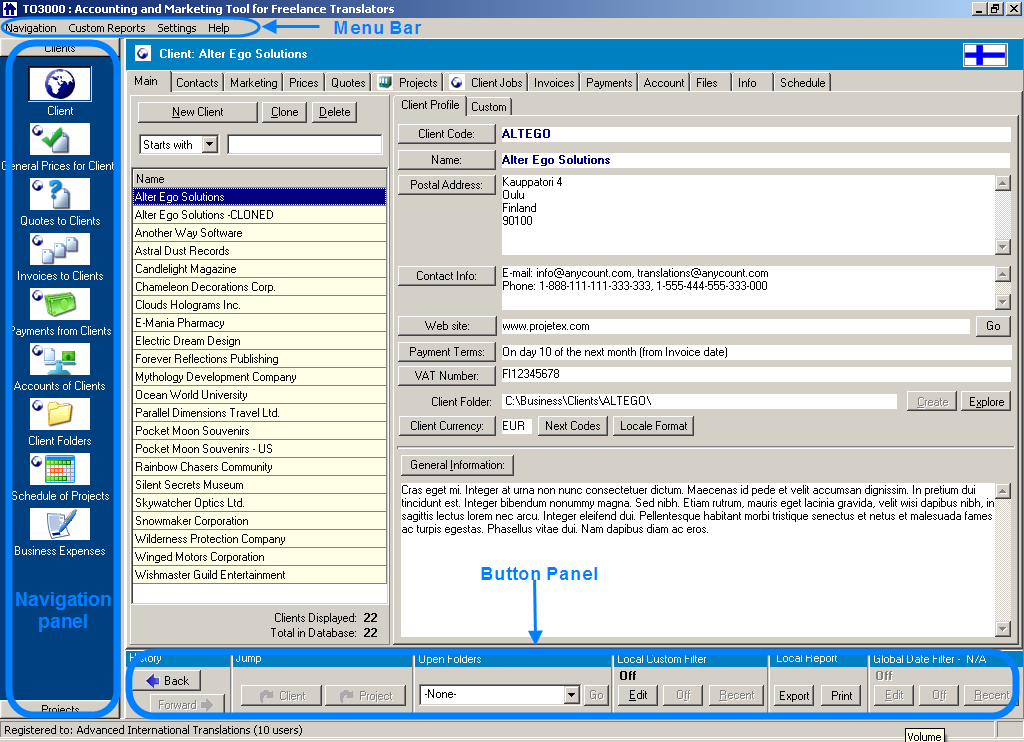 Menu Bar.
Menu Bar has four menus: Navigation, Custom Reports, Settings, and Help. Commands, which are available in Navigation menu are duplicates of icons available in Navigation panel. Other menus provide tools for changing your settings, creating reports, accessing Registration and Help.
More details...

Navigation panel.
Navigation panel consists of two groups of icons, providing access to different parts of TO3000:
1. Clients group consists of icons:Client, General Prices for Clients, Quotes to Clients, Invoices to Clients, Payments from Clients, Accounts of Clients, Business Expenses, Client Folders, Schedule of Projects.
2. Projects group consists of shortcuts: Project, Client Jobs, Project Folders, Schedule of Client Jobs.

Button panel.
Button panel contains a number of buttons groups:
·

History: Back

and

Forward

buttons;

Jump

:

Client

and

Project

buttons for quickly navigating your

TO3000

.
·

Open Folders

drop-down list and

Go

button quickens your access any folder, which was opened from

TO3000

during the current working session.
·

Local Custom Filter

buttons (

Edit

,

Off

,

Recent

buttons) for managing

Local Custom Filter

, an extra handy tool simplifying the search of necessary records in your

TO3000

database, allowing to filter the records according to the user specified conditions on

Client

or

Project

properties.
·

Local Report

buttons (

Export

,

Print

buttons) for exporting the data from

Translation Office 3000 V8

database to other applications (you can export to .RTF, .TXT, .CSV, .XLS, .PDF, .HTML formats).
·

Global Date Filter

buttons (

Edit

,

Off

,

Recent

buttons) for managing

Global Date Filter

,

a searching tool allowing to display only records which date of creation fits the specified condition.

See Also: