We try to make your work with Translation Office 3000 easy and pleasant at most.
That is why TO3000 is equipped with number of functions for quick access to different parts of its interface and folders.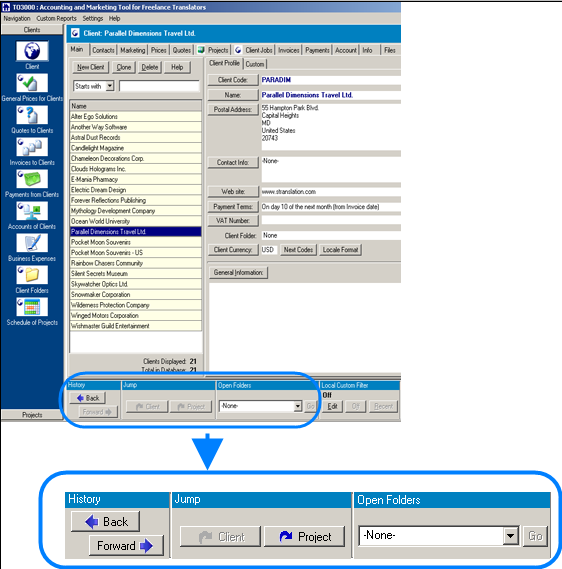 History buttons.
switches the content of TO3000 window to previously visited page or window.

brings you back to the page or window that was opened before you clicked
.

Jump buttons.
Clicking

you jump to the Client window, the page depends on the current content of TO3000 window and selected element at the moment you clicked.
For example,
Quotes to Clients window is opened, "Astral Dust Records" Client record is selected from the list: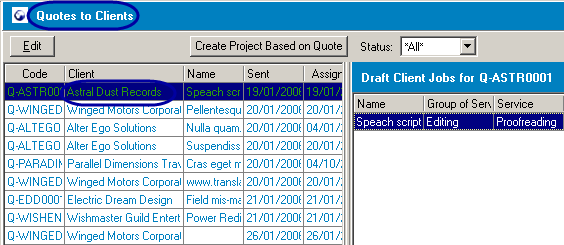 If you click

the content of TO3000 switches to the Quotes page of Client window displaying data for client Astral Dust Records:


button works similarly to

.

switches to the certain page of the Project window, displaying data for selected Project.

Open Folders
Using Open Folders drop-down list you can easily switch between the folders opened during the current TO3000 working session. Any folder you open using TO3000 (using Explore buttons) is automatically added to the list. When you need to switch, just select the necessary folder and click Go button.

Example: If you opened Astral Dust Records client folder first, then Candlelight Magazine client folder, they appear in the Open Folders drop-down list and you can quickly switch between them as described above:

See Also: