Global Date Filter influences the set of financial records displayed in pages or windows where it is available. Using this filter you can select to view the records which fit the certain date interval.
The Global Date Filter is available from the Clients group of windows: Marketing, Quotes, Projects, Client Jobs, Invoices, Payments and Account pages of Client window, and from the Quotes to Clients, Invoices to Clients, Payments from Clients, Accounts of Clients and Business Expenses windows; from the Projects group: Main, Tree, Client Jobs pages and Client Jobs window. The Global Date Filter panel is displayed in the bottom right corner of the TO3000 window: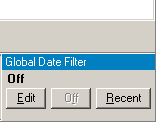 Setting a new date interval for the records displayed.
1. Click Edit button from the Global Date Filter panel. The Edit Global Date Filter will open.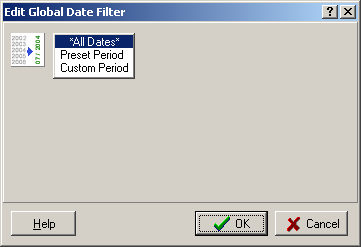 2. Select Preset Period if the period you want to specify is limited by year/quarter/month:

or select Custom Period if you need to specify the concrete dates:

3. If you have selected:
·

Preset Period

, select the

Year

,

Quarter

or

Month

interval and then the concrete value:
·

Custom Period

, select the

Start

and/or

Finish

options and specify the concrete dates using the correspondent drop-down calendars: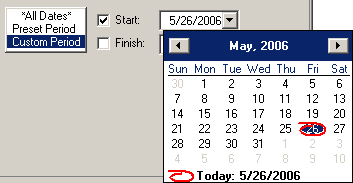 4. Click OK to switch on the filter or click Cancel to disannul the filter setting.
After the filter is switched on, only the records which date of creation fits the specified condition are displayed. The specified period is displayed on the Global Date Filter panel. For example: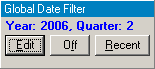 To switch off the Global Date Filter click Off button. When the Filter is turned off, the text above its buttons displays Off label: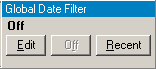 To switch on the recently used filter click Recent button.

Note: Global Date Filter has really global nature. If you change it in one page or window, it will change globally. Defined limits will affect displaying of all records within Translation Office 3000 where Global Date Filter panel is available.

Note: Global Date Filter setting is saved when you close the program and will be used next time you run Translation Office 3000.

See Also: