TO3000 is very reliable software running on very reliable database platform. However, nothing is perfect – and in cases when you are informed about errors after running Check Integrity command, it is necessary to attempt repairing database by running Repair command from Database Settings window.

Note: As a security measure, Translation Office 3000 V8 cannot run any repairs on the original location of Translation Office 3000 V8 (C:\Program Files\TO3000\db\). You should copy database in some other location (do not forget to shut down TO3000 before copying) and attempt to repair this copy. If the reparation will be successful you can replace the working database with the repaired copy.
To perform Repair command:
1. Click menu Settings > Database command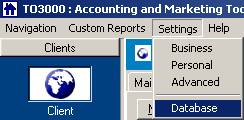 Database Settings will open.
2. Click Repair button: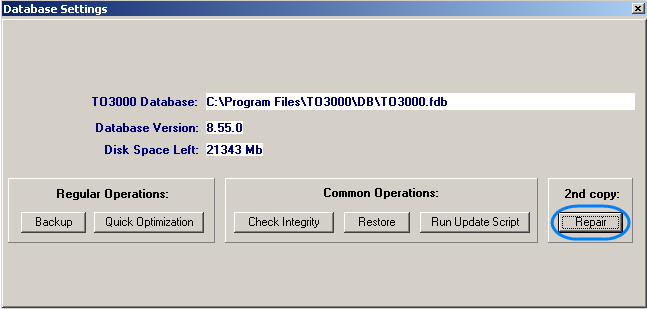 and specify the location of the database copy you want to repair in the Repair Database dialog using Select button:

In the end of the reparation process the notice will appear, informing you if the reparation has been successful.
If the repair fails, the only alternative is restoring database from most recent backup, therefore it is important to backup often.

See Also:
Backup/Restore TO3000 database