AnyLexic is an advanced software designed to manage terminology dictionaries in a reliable and convenient way: all the terminology is stored in one database. AnyLexic, Version 2.0 can be used to keep your terminology consistency during your work as well as for quick and easy dictionary exchanging.
To quickly start using AnyLexic, Version 2.0:
Prepare a dictionary to work with. You can create your own dictionary or use the existing one.
Creating a new dictionary
Click menu Dictionaries > New.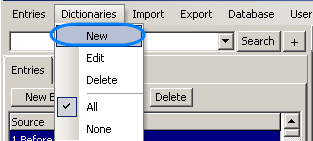 More about creating new dictionaries...
Creating entries
Create entries in the new dictionary by clicking menu Entries > New.

More about creating entries...

Note: You can customize the format in which entries are displayed in AnyLexic with the help of Template Editor. More...
Importing existing dictionary
You can import your own dictionaries in .AEF, .XLS, .CSV, .TXT formats into AnyLexic, Version 2.0.
Select Import menu and the desired dictionary file format and proceed with importing steps.

Customizing Hot Keys for working with the dictionary
Select menu Settings > General.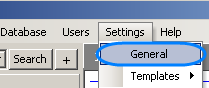 Working with AnyLexic
| | |
| --- | --- |
| · | Open file to be translated. |
·

Select the desired term and press <Hot Key> (default sequence is Ctrl+Alt+S) to start immediate searching of the term in the

AnyLexic

dictionaries.

Note: Make sure that AnyLexic is running and all the necessary dictionaries are selected while translating the document and working with the hot keys.
Connecting to an online database
To work with an online database, shared with your colleagues through Local Area Network (LAN) or Internet, you will need to connect to certain AnyLexic Server. Before you do so, please be sure to obtain your login and password from the administrator of that server.
To connect to a remote database click menu Database and select Server: Internet or Server: LAN option depending on the server location.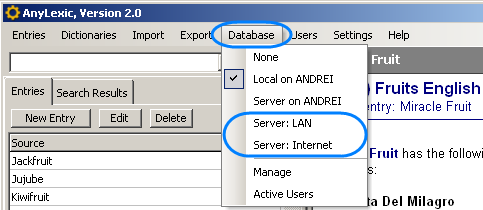 More about Selecting Database...