AnyLexic is an interactive database of Dictionaries.
A "Dictionary" in AnyLexic is a number of terms, or "Entries", usually grouped by certain topic.
An "Entry" represents a record with one Source term and a number of Target fields with optional Notes for each of the target terms. Thus there are Source Entries and Target Entries.
AnyLexic interface consists of the following five major areas:
·

Menu bar

which can be used to access all of

AnyLexic

menus.
·

Dictionaries list

displays all the

Dictionaries

currently stored in the database. Select or clear check box in front of each

Dictionary

in the list to display or hide its entries.

Note: You can select or unselect all the dictionaries by using All and None commands in the Dictionaries menu.
·

Source Entries

from currently selected

Dictionaries

are listed on the left panel of the main window of

AnyLexic, Version 2.0

.
·

Target Entry view

on the currently selected

Source Entry

is displayed on the right panel of the main window of

AnyLexic, Version 2.0

.

Target Entries

are listed here.
·

Search options

can be used for quick search for any term by typing it in the

Search

field at the top of AnyLexic window. You can also use simple or advanced Search to find the required term in AnyLexic database. More...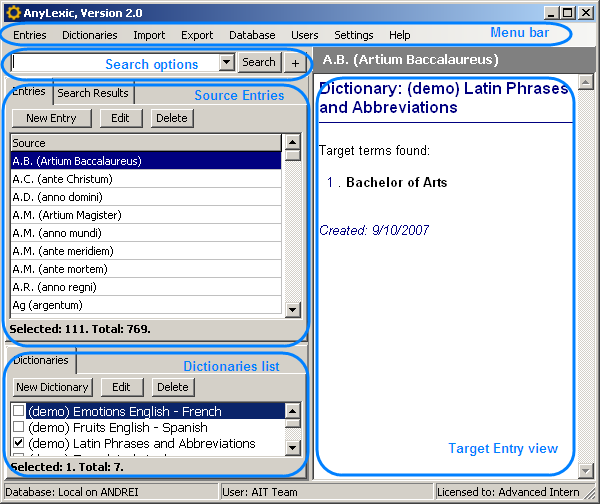 Note: You can change Target Entry view with the help of Template Editor (click menu Settings > Templates > Editor).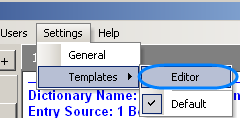 AnyLexic, Version 2.0 can be used to create and edit your own dictionaries, export them into on of the three file formats (.XLS, .CSV, .TXT), or import already existing dictionaries in .XLS, .CSV, .TXT formats into AnyLexic, Version 2.0 database. Use .AEF (AnyLexic Exchange Format) to export/import dictionaries and exchange them with other AnyLexic users.

Note: AnyLexic, Version 2.0 supports Unicode format.
If you are connecting to a database AnyLexic Server, you will be able to share same terminology database with your colleagues, creating and updating shared dictionaries, stored in a centralized location to ensure terminology consistency.

See also: